Luxury Jewelry Store In Houston, TX
Valobra Master Jewelers is your trusted local luxury jewelry store in in Houston, TX.
Visit our website or shop online to find the perfect diamond jewelry design today.
Top Rated Luxury Jewelry Store in Houston
"Jewelry is the ultimate luxury. It is a seemingly superfluous accessory to beautify our exteriors and yet since the beginning of time, mankind has been the only living being with the propensity to create and to wear jewels as it beautifies our soul."
-Franco Valobra, 4th Generation Master Jeweler
Find The Perfect
Engagement Ring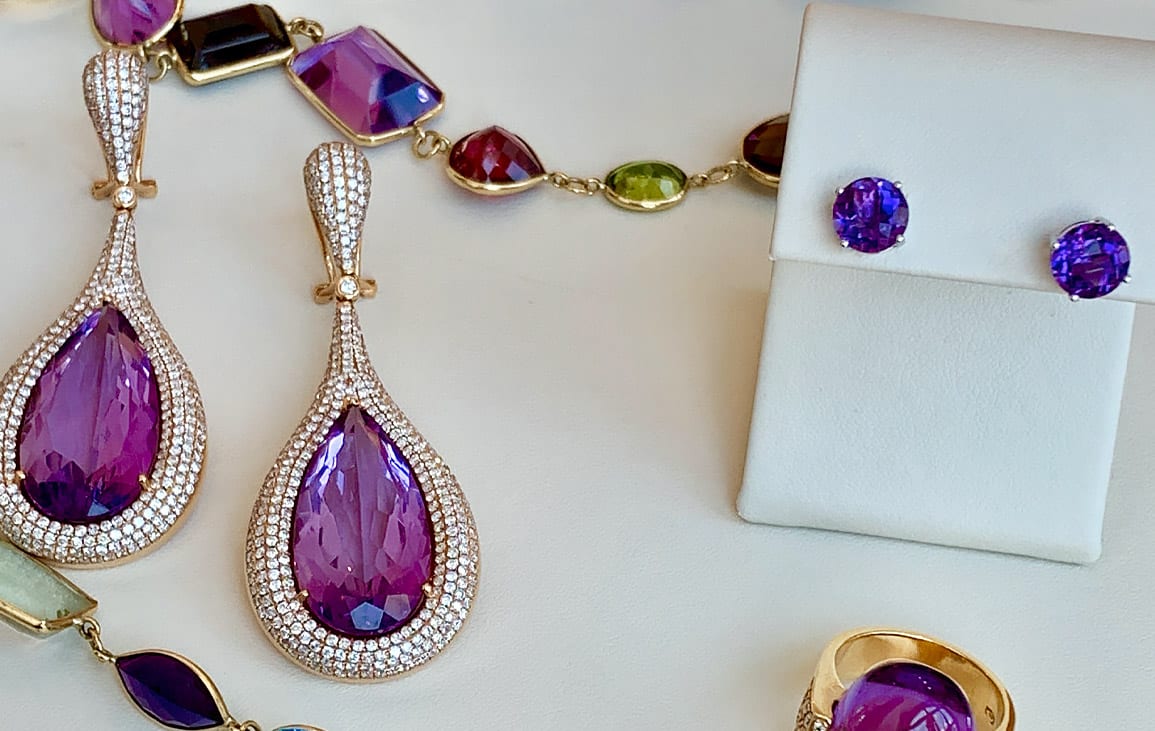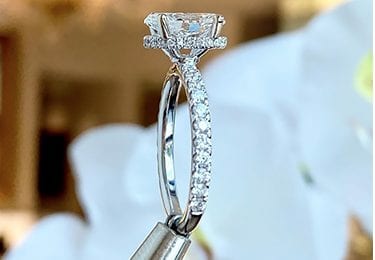 Find The Perfect
Engagement Ring
Valobra Master Jewelers is your trusted local jewelry store in Houston.
We are committed to offering the best collection of custom jewelry and timepieces to our customers and providing a warm, welcoming environment for our community. It is our pleasure to serve you in any and all of your jewelry needs. We look forward to seeing you in our showroom and getting to know our neighbors. Stop in at our jewelry store in Houston and say Hello, anytime.
Your Luxury Jewelry Store in Houston
We have served generations of families as their trusted jeweler to create the very best engagement rings in Houston, TX. We are committed to make every customer "feel at home" with our personalized service and our classic to cutting edge engagement ring designs. Our years of experience and serves have built a legacy of integrity and trust with our customers. Our jewelers are dedicated to helping you find the perfect diamond ring.
We have, on premise, a master jeweler in our workshop for custom jewelry needs. Our jeweler works closely with our team to recreate exactly what is drawn up during the design process. Everything we do for our custom jobs is done in house to ensure the highest quality possible. Our skilled team will be able to guide you through this process, and answer any questions or concerns you may have.
Your Luxury Jewelry Store in Houston
Our custom design process starts with an initial consultation with one of our sales specialist. During this first meeting we will discuss what it is you wish to create with us. The design process can be custom tailored to your specifications.
During the design process we take all details into account to create something that reflects what you have imagined. The design process is where our sales specialist will walk you through options regarding the smaller details of your custom piece. Because we make our jewelry here in our store, anything is possible!
Find The Perfect Engagement Ring
We are a premier provider of luxury jewelry & engagement rings in Houston.
Visit our collection of engagement rings and find the ring of your dreams.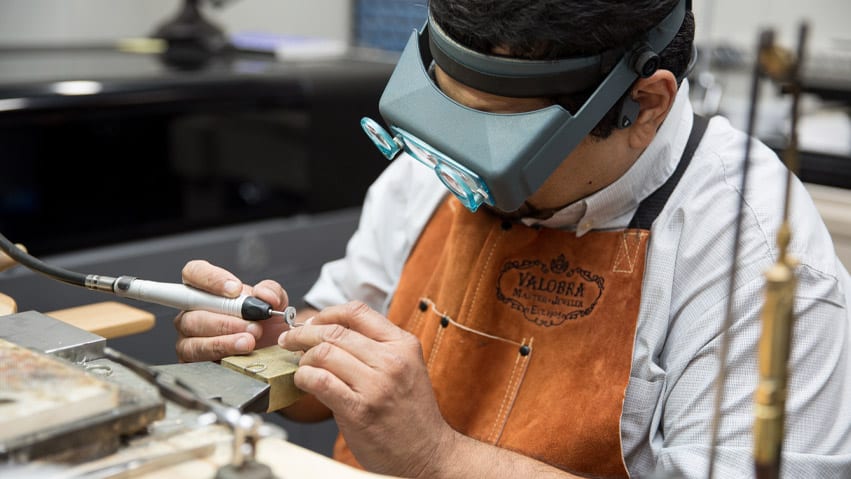 Jewelry Repair and Services
We have on premise a master jeweler and service consultants who handle repair or custom orders with attention to your needs and ensuring the utmost quality. From our history, you know that we have almost 120 years experience coupled with extensive training and passion for fine jewelry and gemstones. We understand the attention to detail essential for repairing, restoring, or redesigning.

We offer a full range of professional jewelry repair, refinishing and refurbishment services to ensure your jewels reflect your joy. Our services include ring sizing, mountings, stone replacement, retipping prongs, jewelry cleaning & polishing, rhodium plating, pearl restringing, clasp replacement, refurbishment & custom designs.
In the realm of luxury jewelry, Valobra Master Jewelers stands as a paragon of Italian jeweler craftsmanship. Exuding both history and...
read more
Jewelry - it's not just about the sparkle. It's a legacy, a testament to craftsmanship, and an expression of individuality. As connoisseurs of...
read more
At Valobra Master Jewelers, creating jewelry is a 115-year-old family tradition, beginning in 1905 in Torino, Italy. Being the fourth-generation master jeweler, Franco Valobra continues this legacy by creating the most exquisite one-of-a-kind pieces for our clients and community while providing superior customer service. Our clients become our family at Valobra. Valobra Master Jewelers, situated in the heart of River Oaks in Houston, also has locations in New Orleans, Louisiana and Lugano, Switzerland.
Whether it is for a wedding proposal, anniversary, or any other occasion, we hope you choose Valobra Master Jewelers to help you meet your needs.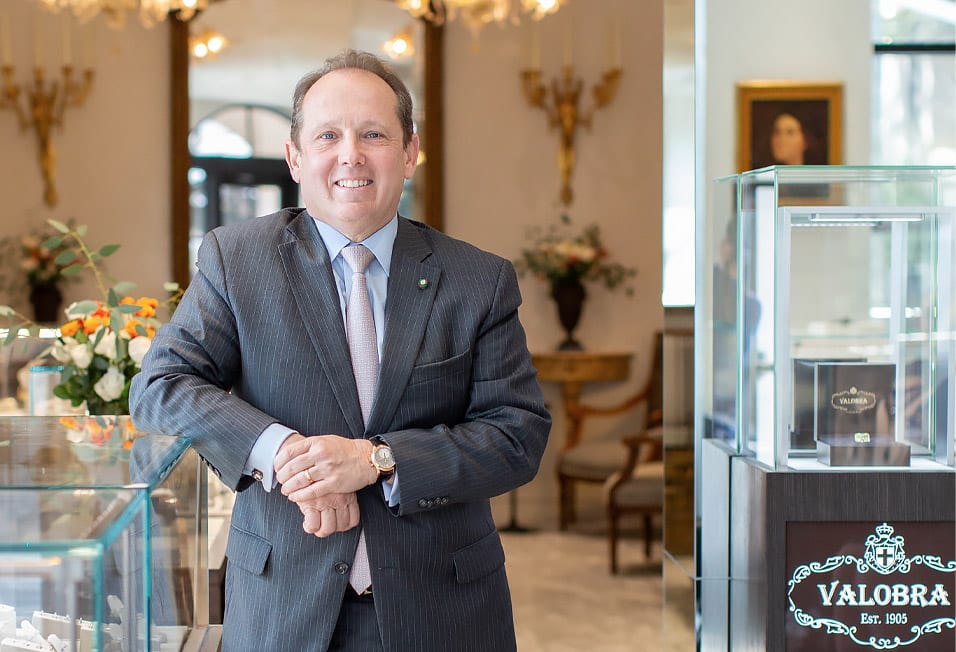 "Valobra was an unexpected, excellent surprise! I am new to Houston and had randomly selected another jeweler in the Midtown/Montrose area to get a sterling silver ring sized. The jeweler said he couldn't size the ring and couldn't give a recommendation for someone who could. Later that day, I passed Valobra while running other errands in the neighborhood and decided to stop in to ask if they could do it. The service was thorough and superb. I received customer service from 3 different staff members; all were sweet, helpful, professional, and fun! One of the staff members even has her perfect, beautiful dog there and she greets customers at the door. These guys are THE full-service jeweler to see; it is worth giving them your business, no matter what part of this enormous city you live in."

"I came here to get some rings resized and they did it quickly, and perfectly! Katie is so sweet, and the whole experience was excellent. Will be back!"

"Katie was extremely helpful in helping my husband and I find him a wedding ring. She made the entire process very easy and stress free. We will definitely be coming back. Thank you for your amazing customer service and generosity Franco and Katie! "

"Valobra was an unexpected, excellent surprise! I am new to Houston and had randomly selected another jeweler in the Midtown/Montrose area to get a sterling silver ring sized. The jeweler said he couldn't size the ring and couldn't give a recommendation for someone who could. Later that day, I passed Valobra while running other errands in the neighborhood and decided to stop in to ask if they could do it. The service was thorough and superb. I received customer service from 3 different staff members; all were sweet, helpful, professional, and fun! One of the staff members even has her perfect, beautiful dog there and she greets customers at the door. These guys are THE full-service jeweler to see; it is worth giving them your business, no matter what part of this enormous city you live in."

"I came here to get some rings resized and they did it quickly, and perfectly! Katie is so sweet, and the whole experience was excellent. Will be back!"

"Katie was extremely helpful in helping my husband and I find him a wedding ring. She made the entire process very easy and stress free. We will definitely be coming back. Thank you for your amazing customer service and generosity Franco and Katie!"